Photo by Timothy Mark

| Tour Dates | Margo's Albums | Order! | Sounds | Lyrics | Online Photo Album | Reviews & Quotes | Past Performances | Awards | About Music Therapy | Fan Mail | Contact Margo | Kennedy Center Performance | Feldenkrais®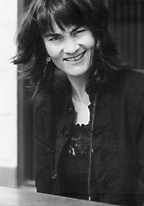 Prime CD recording artists Margo Hennebach & Mark Saunders are two-thirds of the nationally acclaimed trio, Mad Agnes, with Adrienne Jones.  Together they combine award winning songs, highly evolved musicianship and a touch of whimsy to make them a favorite of critics and audiences alike.

Weaving together wide ranging vocals and an assortment of guitars, keyboards, and piano, their music is at once prayer-like and entertaining, "timeless and contemporary." Although they've graced the stages of major festivals and premier venues around the country including the Kennedy Center in Washington, DC, the Bethlehem Musikfest, and the Bluebird Café in Nashville, TN, they are equally at home in churches and house concerts.
"A one of a kind artist...Hennebach weaves a blend of folk music and pop street smarts with insightful lyrics. [In performance] she is one of those rare artists who can bring an entire room to a hushed silence with nothing more than her voice." -- Brad Harvey, Oil the Music Magazine
Margo has a BM in Piano performance from Oberlin Conservatory, a masters degree in Music Therapy from the Guildhall School of Music in London, and is a Guild Certified Feldenkrais Practitioner. Before performing full-time, she was a music therapist at hospitals and schools. Her work as an oncology music therapist influenced much of her early writing as she discovered how songwriting could help her clients organize their feelings and experience into something beautiful and whole.
"Margo and Mark have moved us with joy, laughter and tears, touching our hearts with a unique spiritual sound and lyrics drawn from a rich, diverse life background. They present an inspiring presence as performers."
-- Rev. Daniel Douglas, Common Ground Coffee House, Syracuse, NY

"Hennebach's style sweeps me up and away every time...Hennebach demonstrates an amazing amount of creativity...Captivating."
-- Sing Out
When Margo first came onto the scene in the mid 80's, she was a fixture in the Fast Folk circuit where she backed up several artists such as Richard Shindell, Shawn Colvin, and Rod MacDonald before striking out on her own. Since then she has been a finalist in several national songwriting competitions including Kerrville (TX), Telluride Troubadour (CO), and Napa Valley Folk Festival (CA).  Her shows have been characterized as "a privilege to experience" because of her soaring vocals and lush orchestration.
Mark's virtuoso guitar work recalls the inventiveness of Richard Thompson. A graduate from Hartford Conservatory with a degree in classical guitar, he cut his teeth on R&B music, and brings an electrifying edge to Margo's playing. Together they perform almost single-mindedly, moving deftly from haunting ballad to Celtic romp.

A Prime CD recording artist since 1991, Margo's albums are now perennial favorites. Big Love (1998), Margo and Mark's first joint recording project, project which Bob Franke called a "wonderful, wonderful piece of work." Michaelean (1996) explores Margo's identity as an adoptee as well as her Celtic roots. Margo Hennebach (1994) is inspired by her work as a music therapist treating children with cancer, and in Comfort & Joy (1999), Margo and Mark share their fresh and sometimes quirky renditions of traditional Christmas treasures.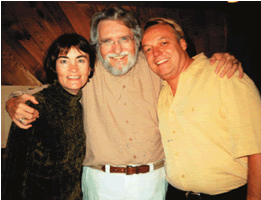 "Margo and Mark - Such a Wonderful gift you give! I am inspired by your extraordinary artistry. You are true treasures. Love, Neale"
-- Neale Donald Walsch, aurthor, Conversations With God book series
Margo & Mark now perform exclusively with Adrienne Jones as Mad Agnes, a trio known for its onstage antics, breathtaking instrumentation, and a cappella harmonies so tight you can't fit a piece of paper between them. Adrienne and Margo also founded Madwoman in the Attic, voted "Best Acoustic Act" by Hartford Advocate readers two years in a row, and Idle Rumours, a contemporary Celtic band with Whirligig's Paul Kovit.
1-800 Prime CD is the New York-based record label created to widen the exposure of singer/songwriter who perform various styles of music from folk to alternative. In addition to Margo, other featured artists are Annie Gallup, Jack Hardy, Hugh Blumenfeld, Aztec Two-Step, The Westerleys, and Whirligig.



On December 21, 1999, Margo & Mark performed on the Kennedy Center Millennium Stage. See a streaming video of their performance from the Kennedy Center Millennium Stage archives.
You need a RealPlayer to view this performance. A RealPlayer Basic is available for free download for various platforms.



Margo Hennebach

Michaelean

Big Love

Comfort & Joy

[Margo's Discography - About Margo's Albums]

[Listen to sound samples from Margo's albums!]


[Buy Margo's recordings online now!]






Write To Margo at: margo@madagnes.com

Margo and Mark enjoy using Elixir brand strings by Gore