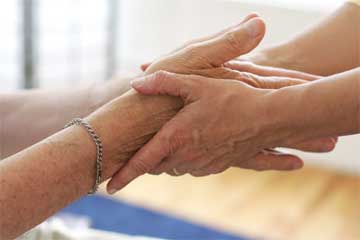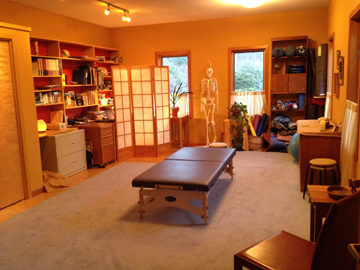 What to Expect
"After just a few moments of the Feldenkrais exercises, people often find themselves, as if by magic, easily doing things with their bodies that they never thought possible."
New Age Magazine
Lessons are held in my studio in Bloomfield. Because we'll begin with an intake, the first lesson will last between 60 and 75 minutes while subsequent lessons run between 50 and 60 minutes. I ask that people allow time after the lesson to walk outside or sit quietly before moving on. This helps integrate the work that we've done together. Thank you for respecting my 24-hour cancellation policy.

My studio is on the first level and there is one step to get into the front door. Please wear loose fitting, comfortable clothes. Layers are helpful in the winter. I'll ask you to take off your shoes, glasses and heavy jewelry. Thank you for not wearing any scented products.

For your private Functional Integration® lesson, you will lie on a table. Instead of verbally guiding you through movement, I will move you and move with you very gently, introducing patterns that will familiar to you, such as rolling, reaching and turning as well as functional patterns you might have forgotten. I'll ask you to pay attention to differences that you feel from one side to the other, differences in your breathing, and changes in the way you're making contact with the table. We will transition to sitting, standing and walking so you can notice the changes you felt on the table and experience them while moving.
For Awareness Through Movement® lessons, you will lie on a mat on the floor and I will verbally guide you through very small, gentle movements that will increase in range and ease over the course of the lesson. As in the FI lesson, I will ask you to pay attention to what you notice as you move and how you can reduce the effort. You will take many rests, and by the end of the lesson you will probably have much greater ease of movement, be surprised by your improvement, and be able to notice differences in your breathing, standing and walking.

As you progress, we may include more challenging lessons in sitting, standing or walking. We can also investigate physical therapy exercises you do as well as any sports related movement. You may also bring an instrument to the lesson if you like.